Memorandum
To: Donna Shea, Instructor
From: Phil Fournier
Date: 10/2/2004
Subject: WR2 Compare and Contrast two computer systems
For the purposes of this assignment, I did extensive research on the internet to learn what I could about the Apple computer company and the capabilities of its products.  My past experience with computing has been almost exclusively with the IBM PC standard, beginning with my first computer purchase in February, 1988, when I bought a computer for my wife's birthday, ostensibly for her benefitJ.  She did use the computer for gaming and personal work such as the creation of greeting cards and personal calendars, but it became an invaluable tool to me.  Our first computers were all run on Microsoft's DOS (disk operating system) which was on a floppy disk.  Our second computer purchase was a machine with a 20mb hard drive, which at the time seemed huge.
My first exposure to the Apple computer was in the same year, 1988, as we shopped for a computer system that would be adequate to run a software program for our business.  We very nearly bought a software and hardware combination that was based on the Apple computer and its operating system.  Being a non-computer user at the time, I was thrilled by the look of the Apple operating system.  The graphical user interface and the use of the mouse were almost irresistible to a man who hadn't used typing since high school.  My father was somewhat biased against the Apple system due to his working with IBM machines in his oil company research job, and as a business partner, his opinion was important to us.  But even he was very impressed by the "look and feel" of the Apple equipment and software.  We came within one day of buying the system, which had a price tag of $15,000.  At the last minute we asked the vendor for a reference.  He gave us one, and it happened to be an auto repair shop owner in our town.  From a marketing standpoint, this turned out to be a serious mistake on his part, as a conversation with the repair shop owner confirmed a suspicion which we had; the computer system would not network effectively.  We had determined that we needed two terminals at least, possibly three, to run our business effectively.  This Apple system had the requisite number of terminals in theory.  But in practice, they could only be used one at a time.  We held off on our purchase and later bought an IBM PC based system. 
The "look and feel" feature of the Apple computer and its GUI (graphical user interface) were a huge selling point in the early days of Apple computer and no doubt account for its great success within the educational field.  In my research on the internet, I found that Apple enthusiasts are ardent in their love and support of the computer and its features.  Dr. Ron Pendleton is one of those lovers of Apple computer products and he uses a Mac PowerBook computer, similar to the one that I will compare in this report, during all of his classroom presentations.  In watching the operation of the operating system, I can see that it still retains much of its GUI appeal.  However, when Microsoft introduced its first really functional Windows software, Window 3.0 in 1990, Apple Computer began its slide into stagnation and irrelevance (certain Apple die-hards would probably be willing to cause me great bodily harm for making that statement J).
For the purpose of this report, I compared two computer systems: The first, I own myself; a Dell computer Inspiron 600M laptop computer which I purchased about three months ago to replace my problematic HP laptop.  The second I compared by shopping on the Apple website; an Apple PowerBook G4 laptop computer.  I tried to equip each one with comparable hardware and software so as to make a valid comparison.  I also researched websites that showed comparisons of the two computers.  Generally, the comparisons were based on speed, which for many users is an important feature.  Here are side-by-side comparisons of the equipment of the two machines:
Apple PowerBook G4: 14-inch TFT Display, 1024x768 resolution, 1.33GHz PowerPC G4, 512K L2 cache, 512MB DDR333 SDRAM, 60GB Ultra ATA/100, NVIDIA GeForce FX, Go5200 (64MB DDR), Full size keyboard, 10/100BASE-T Ethernet, FireWire 400 AirPort Extreme built-in, Mini-DVI out, CDR/DVD Super drive, Keynote presentation software, 3 hours battery life, weight of computer is 4.6 lbs.  Note that the Apple website does not sell Office software, only its own presentation software.  In order to obtain Office for Mac I went to an alternate website and found the necessary software at around $150.  The price for computer as detailed above including Office software, around $1,900.
Dell Inspiron 600M: 1.6ghz Pentium M processor, 4 hour battery life, 60gb hard drive, 512mb RAM, Microsoft Office for small business, Windows XP home edition, 10/100 base T Ethernet card, 24x CDR/DVD drive, 14.1" TFT display, 64mb video memory, weight of computer 4.9 lbs.   This computer is also equipped with all of the ports, old technology and new, including a serial port and a parallel port, two USB ports, a single PCMCIA port, and a built-in wireless connection.  The price for the computer as detailed above was $1449.
From a teaching standpoint, either of these computers would be more than adequate for almost any use that an instructor might have.  In reading the reviews, the Apple product got high praise for its ability to handle video capture and video editing.  Having never done anything with video on a computer, I have no experience upon which to make a comparison to the Dell computer, but the difference would probably be more in the software available than in the actual computing power or memory capability of each machine.  Websites that have the appearance of being sponsored by Apple show the PowerBook G4 to be about 30% faster than the comparable PC laptop.  If an instructor were primarily interested in the video capabilities of the machine, it would probably be a good idea to make a real-life comparison before purchasing.
One item which is to me of great importance is the support and warranty of the machine.  Laptop computers are subject to a great deal of rough usage because of their very definition of portability and movement.  My own experience has been that I can beat one up within two years.  My last Dell laptop lasted through the three year warranty I purchased for it, and continues to function flawlessly today, five years after I bought it, though its small hard drive and relatively slow processor made it obsolete for my uses.  During the warranty period I had three small problems, all of which Dell computer handled on-site in an incredibly short period of time, less than two days downtime.  I cannot speak to Apple's response time, but I would be surprised if their service was to that level.  I noticed on the website that the standard complete warranty period was only 90 days, which to me does not bode well.
For purposes of live comparisons rather than internet shopping, I found the following map on the Apple website to be of interest:
<![if !vml]>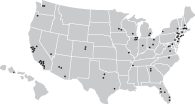 <![endif]>
What you see there are the locations where an Apple computer can be viewed in real life.   Similarly, if one was to insist on the Dell brand of laptop, there would be no great abundance of stores to buy from.  I searched the Dell website and found about 17 stores in California, the closest being in the Ontario Mills mall, while the closest Apple store is in Costa Mesa.  The main difference would be that a very close equivalent to the Dell laptop could be found in any computer store in any mall or any chain store such as Sears or Walmart.  This is because IBM licensed its technology and literally hundreds of manufacturers have adopted the PC standard, while Apple has kept its designs to itself.
In summary, for the use of an instructor, either the Apple or the Dell machine, equipped of course with the necessary software, would be capable of meeting every computing need the instructor might have.  The Dell machine will be less expensive, and if one is willing to purchase an off-brand machine, prices would probably be even less.  The 60GB hard drives should have long life for storage needs, even with large video and graphic programs.  Bigger drives are available on both machines for more money.  Speed of both machines is very fast, even when multiple windows are open (I currently have four internet site windows open, a mail program, and three office programs open with no noticeable drop in speed within this word processing program.)  Both machines are capable of burning CD's and viewing DVDs.   The battery life on the Intel Centrino (Pentium M processor) is somewhat better than the Apple, four hours compared to three, proved experimentally.  In the end, personal preference will probably be the deciding factor, rather than functionality.  As is probably obvious from what I have already said, my choice would be the Dell Inspiron 600m.
The following resources were used relative to this research project:
Fournier, Philip – My own personal experience
Dell Computer web site for Inspiron 600m notebook computer – Austin, Texas
http://www1.us.dell.com/content/products/productdetails.aspx/inspn_600m?c=us&cs=04&l=en&s=bsd
Apple Computer web site – Palo Alto, California
http://store.apple.com/1-800-MY-APPLE/WebObjects/AppleStore/
Website for purchase of Microsoft Office for Mac – PCNation, Northbrook, Illinois
http://www.pcnation.com/web/details.asp?affid=306&item=883434
Website for Apple computer history
http://apple.computerhistory.org/
Website for Mac computer comparisons